Learn to experience the beauty and joy within. We offer classes every 1-2 months, as well as concerts and workshops by international speakers.
World's first sub 2 marathon
Essential qualities to achieve a sub 2 marathon..
About our meditation classes
In our fast-paced modern lives, meditation is now recognized as a powerful life skill, bringing a renewed sense of clarity, purpose, simplicity and calm. Meditation reconnects us with our inner strength, unburdens the mind, and takes us to an inner space of stillness. More on the benefits of meditation »
Our class givers have spent many years studying meditation under the guidance of Sri Chinmoy (pictured), and are very happy to answer any questions you might have about meditation.
View our class schedule »    Meet our class givers »
What does a typical course involve?
Two guided meditations per session.
Breathing and concentration techniques to still the mind.
Covering the ABC's of home practice.
Creative visualisations, mantras, and the four pillars of yoga.
Music and meditation.
Welcome to our 2019 'Learn Meditation' free course options. Our current series of free meditation programs run throughout the year in our CBD venues and in multiple surburban locations around Auckland. Look through the upcoming introductory courses below and choose a suitable time to attend. To register, simply leave your details on our contact page, or text your name, course option and numbers attending to our contact phone: 022 1887432.
We look forward very much to meeting you and sharing our love of meditation with you!
To learn more about the 10 Compelling Reasons to meditate…<click here>.
---
Meditation Resources
For those people interested in deepening their meditation experience and their understanding of the techniques and secrets to help achieve this, a new edition of Sri Chinmoy's timeless guidebook on the subject has just been published. Behind the deceptively simple title, "Meditation', the 300 pages that follow offer a wealth of insights and guidance that takes the reader from the initial start-up steps through to the deepest meditations attainable, the high points or samadhi's. 
The book spans many different approaches and a wide canvas of techniques – breath work, visualization, mantra, heart centre meditation, the various branches of yoga (jnana, bhakti, karma etc), along with question and answer sections and chapter topics discussing the lesser known secrets of successful meditation. 
 'Meditation' is a beautifully presented hardback edition, and possesses the simplicity, clarity, depth and inspiration that will make it a lifelong companion for its readers. It offers and shares a map of the inner journey, and a wonderful resource for all of those interested in the path of self-discovery, enlightenment and awakening.
Copies can be requested by leaving your details here on our contact page. 
The latest news and updates
Finding balance in urban living with proximity to nature in Lake Tarawera adventure …
Travel always widens us, inspires us, ushers in new insights and adventures – our recent tour of the UK proved the truth of this conclusively! Fourteen members of our a cappella music group, Oneness-Dream, have just concluded a seven-day tour around parts of England,...
Meet the class givers
Our class instructors have all learnt the art of meditation personally from Sri Chinmoy.
Interview with Ursula Maag
Ursula talked about meditation and daily life.
Jogyata Dallas
Jogyata has taught meditation for over 30 years and is the author of several books about the subject and his encounters and experiences with Sri Chinmoy. He lives in Auckland but teaches in many other countries. His workshops combine humor, personal anecdotes and guided meditations and reflect his sincere love of his subject.
Preetidutta Thorpe
Preetidutta works in the vegetarian café The Blue Bird in Auckland's Mt Eden and was once an Olympic level contender in yachting. She visited New York on many occasions to study meditation with Sri Chinmoy.
---
Muslim Badami
Muslim has been a member of the Sri Chinmoy Centre since 2003. A keen marathoner and occasional actor he lives and works in Auckland after moving here from India. He teaches evening workshops in introductory meditation throughout the year.
---
Hridayinee Williams
Hridayinee has been practicing meditation in the Sri Chinmoy Centre for 20 years and teaching Beginner Meditation Classes for 15 years in Australia and New Zealand. She is a qualified children's educator and loves working with children which helps keep her in the heart and happy.
On Meditation
It's easy to become a little overwhelmed by the amount of information about meditation and this short section is to simply focus on some of the techniques for meditation and the practical use of meditation for a fulfilling life.
April 13, 2019 – today in New York several hundred people from 40 countries have gathered at a beautifully decorated outdoors meditation space to commemorate and remember spiritual master Sri Chinmoy's arrival in the West. That historic arrival day was in the long-ago...
read more
Music and Meditation
Explore how meditation can be used to elevates our consciousness.
Travel always widens us, inspires us, ushers in new insights and adventures – our recent tour of the UK proved the truth of this conclusively! Fourteen members of our a cappella music group, Oneness-Dream, have just concluded a seven-day tour around parts of England,...
read more
Sport and Meditation
Meditation can enhance our physical performance, but also makes our satisfaction from sport deep and lasting. Explore the inner aspect of sport —a dimension that everyone can add to his or her current physical and mental training.
Last week some 45 runners from all walks of life and fitness level participated in the annual Sri Chinmoy 12 and 24-Hour Races in a attempt to learn more about themselves, tackling hitherto unexplored distances …
read more
Meditation isn't only about sitting down and quietening the mind in your favorite home-haven, incense burning, some peaceful music, a reprieve from the endless distractions of the world. It can also be high up on a mountain, cradled by the high blue sky, by silence...
read more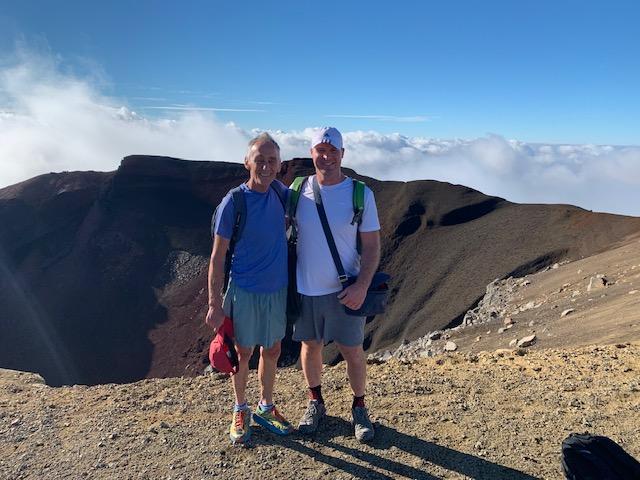 Untamed landscapes always inspire and humble us, and our recent hike over the Tongariro Crossing was all of this, a 21 km tramp over the Central Plateau's old volcanic wonderland with it's big massifs and plains of buckled lava and jutting cones of mountains. A...
read more
Life experience and insight
Profound insights as well as inspiring and amusing life-stories.
Late August, 2019 has been tinged with sadness at the news of the passing of a wonderful friend and meditation teacher, Snatak Mathiasson, a longtime colleague who has struggled with the rare affliction ALS for many years. In some mysterious way we are connected to...
read more
Over the last weekend of June we had a great meditation retreat weekend at the Aio Wira Retreat Centre in the Waitakeres. 16 people came for an overnight stay which included yoga and meditation, several hikes along the Te Henga coastal trail at Bethells Beach, ocean...
read more
How to remain youthful, happy and positive despite the advancing of age …
read more
Diet
Body and mind are interconnected. Proper diet maintain the body-temple in mint health and enable deeper and subtler meditation experience.
We all have our favorite haunts to meet friends or dine out - mine are scattered
about in numerous places, magnets that draw me back time and again. My current number one is The Hungry Elephant vegan/vegetarian cafe in Matakana, a leisurely one hour's drive up north...
read more
IndiaNZ Outlook contributing writer Jogyata Dallas interviews Auckland nurse and vegan Cheryll Martin about vegan principles and the growing global interest in animal rights/ethical living.
read more
Read how a vegan or vegetarian diet develop a deepening understanding of our oneness with all living things and the impact of our diet in the refinement of our consciousness …
read more
Community Services
As well as meditation, our members run several enterprises that bring the principles of meditation into daily life, and are continually organising projects to serve the public, and to help each human being find the best within themselves.
The saying 'Better to light a candle than to curse the darkness' has a poignant relevance to our country after the shadows cast by the Christchurch tragedy. The sense of national grief at the misfortunes of our fellow countrymen, the wonderful outpourings of support,...
read more
Humanity's great teachers, the spiritual masters, sages and yogis that have been with us over the long centuries, tell us how remarkable and splendid the human soul is, its capacity for love and compassion, the hope it carries for a brighter future and a peaceful...
read more
Rather than the path of seclusion, karma yoga sees in the everyday challenges of life countless opportunities to learn, deepen and multiply our many good qualities.
read more
Viewpoints
Spiritual viewpoints to ponder upon life, the world and the Universe.
A new statues in Taupo encouraging reminding us to look towards a better world and provides inspiration about our individual role in fostering this.a brighter future for humanity …
read more
Humanity has always wondered about its future, devising myriad ways to look beyond the present moment to prepare and shape its destinies and its fortunes. Since ancient times, shamans have looked for patterns in the spiraling contours of smoke, taken hallucinogenic...
read more
Auckland's 17th Diwali festival, colloquially referred to as 'The Festival of Lights', will soon be enlivening our city streets and temples and bringing gaiety, color, dance, music, theatre, workshops and a wonderfully irresistible array of multi-ethnic food stalls to...
read more
Video Features
Members of the Sri Chinmoy Centre share their perspective on meditation in daily life plus selected interviews with Sri Chinmoy on various aspects of meditation and spirituality.